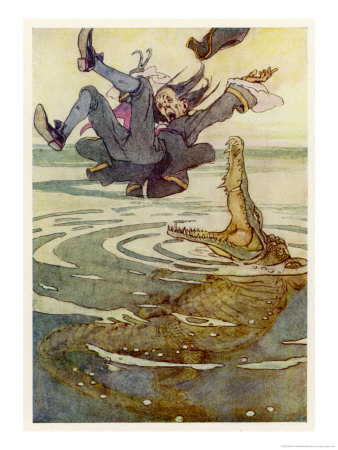 Peter Pan is an adventurous young boy who can fly and magically refuses to grow up. He spends his exciting, ever-lasting childhood on the imaginary island of Neverland as the leader of the gang of Lost Boys. With his fairy-friend Tinkerbell, Peter lures Wendy and her brothers to Neverland and engages in adventures with mermaids, pirates, Indians, and a crocodile that swallowed an alarm clock.
But the most fearsome character that Peter encounters is Captain Hook, who is bent on revenge because Peter had cut off his arm during a sword fight many years earlier and fed it to the crocodile. To do away with Peter, Captain Hook hatches this wicked plan:
Hook…stood for a long time lost in thought, and at last a curdling smile lit up his swarthy face. Smee had been waiting for it.

"Unrip your plan, captain," he cried eagerly.

"To return to the ship," Hook replied slowly through his teeth, "and cook a large rich cake of a jolly thickness with green sugar on it. There can be but one room below, for there is but one chimney. The silly moles had not the sense to see that they did not need a door apiece. That shows they have no mother. We will leave the cake on the shore of the Mermaids' Lagoon. These boys are always swimming about there, playing with the mermaids. They will find the cake and they will gobble it up, because, having no mother, they don't know how dangerous 'tis to eat rich damp cake." He burst into laughter, not hollow laughter now, but honest laughter. "Aha, they will die."
Like Peter, you'd be wise not to take a bite of a poisonous cake, but you might like to try this wickedly delicious recipe for Captain Hook Pirate Cake. The green sugar frosting is very sweet, so be careful not to eat too much, lest you get a wicked stomach ache!
Cake Ingredients:
1 cup cocoa powder
2 cups boiling water
1 cup (2 sticks) butter, softened
2-1/2 cups sugar
4 eggs, at room temperature
2-3/4 cups all-purpose flour
2 teaspoons baking soda
1/2 teaspoon baking powder
1/2 teaspoon salt
1-1/2 teaspoons vanilla extract
Preheat oven to 350°F. Grease and flour three 9-inch cake pans. In a medium bowl, stir the boiling water into the cocoa until smooth, and set aside. In a separate bowl, combine the flour, baking soda, baking powder and salt, and set aside.
At medium speed of an electric mixer, cream the butter and sugar for 4 to 5 minutes. Add the eggs, one at a time, beating well after each addition. Turn mixer down to low speed. Add the flour mixture to the creamed mixture alternately with the cocoa mixture, beginning and ending with the flour mixture.
Stir in the vanilla, and do not overbeat.Pour an equal amount of batter into each of the three prepared pans. Bake for 20 to 25 minutes or until a cake tester comes out clean.Cool in pans set on racks for 10 minutes. Invert pans on racks, remove pans, and allow layers to cool completely before frosting.
Frosting Ingredients:
1/3 cup butter
1/4 teaspoon salt
1 teaspoon vanilla extract
1 pound (3 1/2 cups) sifted confectioners sugar
3 to 4 tablespoons milk
Green food dye
Directions: Cream butter, salt, and vanilla, beating until light and fluffy. Add sugar gradually, beating after each addition. Add 3 tablespoons milk, beating until smooth. Beat in more milk until desired spreading consistency is reached. Add 4-5 drops of green food dye and stir well. Carefully spread over your cake and say, "Ahoy, matey!"